Welcome to the "Voluntarily Popped Pomegranate" a modest but superb kitchen in Vienna.
I am delighted to share a few of my recipes and ideas with you. For me, the kitchen is a place of relaxation and passion, a small laboratory, and, most importantly, my own playground. Fermenting is one of my favourite activities, but I also enjoy finding and blending old processes and recipes. It is important to me to use regional products and to include cultural knowledge. I'm conscious about using as much natural, unprocessed food as I can.
Why Voluntarily Popped Pomegranate?
Although my blog's name may appear a little odd at first, as a native Styrian (a state of Austria), I am really standing on the shoulders of an almost-forgotten giantess: Eleonora Maria Rosalia von Liechtenstein!
She was a pioneer in the field of cookbook writing, and published one of the earliest Austrian cookbooks. This is also pretty early for Europe as a whole. The book title "Freywillig-auffgesprungener Granat-Apffel" translates to "Voluntarily Popped Pomegranate". The book was a massive success, and the 12th edition was published in Vienna in 1741. Several regions have reprints of this food and healing book.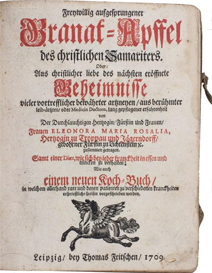 As a result, the title already reveals an essential fact: we all build on the wisdom of our ancestors. All that remains is to proclaim that the pomegranate has returned voluntarily!
Ella Josephine Esque